Country information
The Republic of Macedonia is a small country located in the center of the Balkan Peninsula, on the crossroads of South-east Europe, providing an important link which connects four key regions in Europe: Central Europe, the Aegean Sea, the Black Sea and the Adriatic Sea.
Approximately half of the country (49 per cent) is agricultural land, while forests cover about 37 per cent of the territory. The natural resources of Macedonia include: zinc, lead, manganese, nickel, chrome, copper, iron ore and wolfram.
There are also a large number of thermal springs.Macedonia grows and distributes high quality fruits and vegetables, and has a growing wine industry. Tourism, particularly in rural areas, represents another area for potential investment and economic growth. Several other industries, such as food processing, beverages, textiles, chemicals, iron, steel, cement, energy and pharmaceuticals create the foundation for the country's future economic development.
Fig: Macedonia Map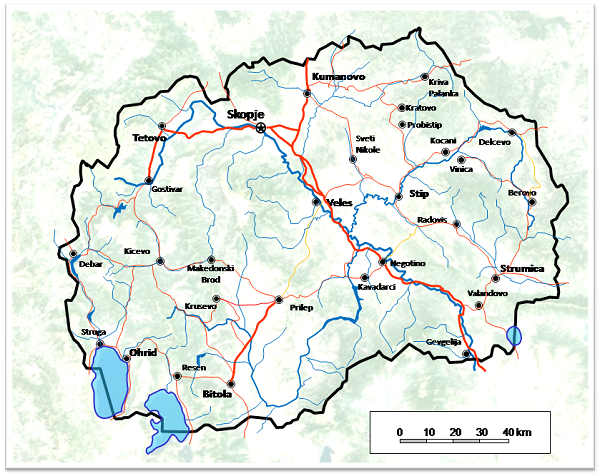 Population: 2,061,044 (2011 est.)
Ethnic Groups: Macedonian 64.2%, Albanian 25.2%, Turkish 3.9%,
Roma 2.7%, Serb 1.8%, other 2.2% (2002 census)
Languages: Macedonian (official) 66.5%, Albanian (official) 25.1%,
Turkish 3.5%, Roma 1.9%, Serbian 1.2%, other 1.8% (2002 census)
GDP: EUR 7.48 billion (2011)
Real GDP growth: 2.8% (2011)
Inflation rate consumer prices: 2.8% (2013 est.)
Unemployment rate: 28.6% (2013 est.)
Trade: Exports (2013 est.): $4.267 billion
Imports (2013 est.): $6.6 billion